What is a CSA
Community Supported Agriculture is a system that provides a direct connection to locally grown food for the eaters in a community while also providing a dedicated market for the produce a farmer grows. Because the CSA member pays for their produce before the growing season, this model provides much-needed working capital for the farmer to purchase seeds, pay for labor, make investments in the farm operation and generally be able to plan expenditures through out the growing season. The CSA member also agrees to shoulder some of the risk of the growing season along with the farm so while there are times of bounty there may also be time of low yields. Because of diversity, there is rarely a situation where all of the production is impacted by any single event. A good example are the floods of 2013 where we lost only a few of our crops like the potatoes and salad greens but we were still able to finish the season.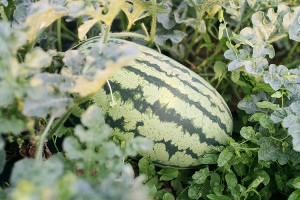 There are now many variations on the theme of the CSA as farmers and members tweak the concept to better fit their needs. Originally the farmer grew only for the members and the members covered all of the capital needs of the farm. As the concept has matured there are many variations from CSA's that set up a market, deliver boxes weekly or use a debit card to track purchases to farms that diversify in whom they sell to and what they sell through the growing season.
At Kilt Farm my focus is not only on growing a certain amount of food to meet the dollars invested in the farm but to grow a wide variety of staple and unique vegetables in amounts to provide for the needs of my members. I will make sure that the share contains a selection of seasonal vegetables that can be utilized in meals during the week. Then when we have abundance in the fields you have abundance in your share boxes.

How it works
Our 2017 season will run for 18 weeks from early June to mid-October.
Pick up Locations
CSA Members pick up shares at one of our self-service locations in Boulder or at the Farm. We are anticipating Wednesday to be our pick up day but will confirm the date in early Spring.  Our normal pick time is 4-7pm and shares not picked up by the end of the day, and where prior arrangements have not been made, will be donated to the food bank. If you can not make a pick up, have a friend pick up for you so we keep the goodness in the family.
Boulder – 3812 Howe Ct, Boulder
Niwot – Kilt Farm 8140 Oxford Rd
Steamboat Springs – Community Agriculture Alliance 141 9th St, Steamboat Springs, CO – Delivery Fee will be applied.
Share Size and Cost
• Family Share (feeds 4-6) 18 weeks $630 ($35 week)
• Regular Share ( feeds 2-4 ) 18 weeks $450 ($25 week)
• Bi-Weekly Share ( a family sized share picked up every other week )   9 weeks $330
• Workshare Member – ( feeds 4-6 ) 18 weeks of produce in exchange for 6 hours of volunteer work each week of the season. Please contact us to apply
• Fruit Shares – 11 weeks of Organically Grown Colorado fruit, approximately 75 pounds of organic fruit – $230 ( $3.oo a pound)
A deposit of $200 will hold your share with the remainder due by March 1. Payment in full before March 1st is deeply appreciated and helps the farm as we get started in the spring.
Early Sign Up  Special – pay in full by December 20th and as a thank you we will add the following to your order for free:
1 jar of Kilt Farm Honey
2 preserving shares for each Family Share OR
1 preserving share for each Regular share or Bi-Weekly Share
Membership includes weekly produce delivered to your pick up site, weekly newsletter, periodic recipes, invitations to CSA workdays and crop gleanings.
What is in your share
During the growing season every week is different but with over 100 varieties growing at Kilt Farm, there will always be something wonderful in your box. Plan on seeing 6-8 different varieties of vegetables each week with in the seasonal variations. Check out the produce varieties we will grow on the farm this year.
An example of items in a Spring Share: •1 bag Arugula, 1 bunch Beet with greens, 1 bunch of Carrots with tops, 1 bunch Cilantro, 1 head of Lettuce or 1# of Lettuce Mix, 1 bunch of Radish, 4 Shallots, 1 bunch Spinach.
An example of items in a Summer Share: bunch of Basil, 1# peas, 1# green beans, 1 head of broccoli, 1 bunch of Carrots, 2 Cucumbers, 1 head of celery, 1 Fennel bulb, 1# Salad Mix, 1# Okra, 2# Sweet Pepper, 2# Summer Squash, 2# Tomatoes, 1 Watermelon or Cantaloupe
An example of items in a Fall Share: Stalk of Brussel Sprouts, 2 winter squash, 2 heads of Garlic, 1 bunch of Kale, 1 head of Cabbage, 1 fennel bulb, 1 head of Lettuce or 1 bag of Mesculun, 3# of onions. 3# of potatoes, 1 head of Radichio, 1# dried beans, 1 bunch spinach, 1 pie pumpkin and a bunch of carrots.
Sharing the risk
Farming is inherently a risky endeavor and so many factors, from lack of rain to wind, frost or too much rain can impact what happens in the field. Being a fully diversified farm in my production planning, it is my goal to have a lot of varieties growing at any one time, so there will always be something good to eat. With that being said, if there is an abundance I will share it with you so you can put away food for winter, or if there is a problem, the amount or variety can be impacted. The risk sharing involved in the CSA model allows for a certain safety net for the farmer and local, fresh food for the member at or below the cost of having food shipped in from so many far away places.
Thank you for being a part of a growing local food movement here in Colorado.